Our Consultancy Services
Food Safety and Hygiene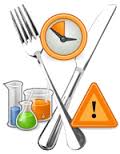 Food safety and health & safety are important for your organisation's reputation, which is critical to your business. At Affinity Libra, we are passionate about protecting the reputation of our clients through high food safety and health and safety standards.
Whether you are a caterer, food retailer or supplier, we can provide services for you in all aspects of food safety and health & safety, to achieve positive results.
Our team of trusted, approachable experts will provide you with effective support to enable you to excel in standards of food hygiene and safety. The results we achieve with our clients speak for themselves.